Company Profile
Company Profile - High Quality packaging products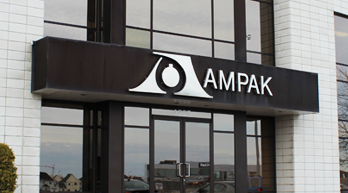 Ampak is a manufacturing company with over 60 years of valued experience committed to producing high-quality bottles, jars and packaging components made from polyethylene terephthalate (PET), high-density polyethylene (HDPE), Low-density polyethylene (LDPE), polypropylene (PP), Polystyrene (PS), polyvinyl chloride (PVC) and glass. We produce for a variety of industries, including food and beverage, pharmaceutical-nutraceutical, industrial and automotive, and health and beauty.
Ampak manufactures stock and custom containers and closures in a variety of shapes, sizes and colors. We carry over 1000 molds in inventory and use FDA resins. We currently run PET and HDPE bottles with post-consumer regrind (PCR). Our qualified in-house team works with our valued customers in providing an extensive A to Z packaging experience. We work diligently to find solutions for our customers to ensure that we solve all of their packaging needs. Our goal is to maintain a clear understanding of our customers' requirements throughout the design, production and delivery process with a view to exceeding our customer's expectations in every way.
Our capacities include injection molding, extrusion blow molding and reheat blow molding. Our in-house tool and die department enables us to react quickly to make modifications and repairs to molds and machinery as needed in order to ensure smooth and timely production. Ampak is committed to offering high-quality screen printing and labeling, shrink sleeving, heat transfer and pressure sensitive sleeving.
The current management team is focused on steady growth and a solid future with a view to continuing Ampak's vision for the key industries that it serves with the highest degree of integrity and respect throughout North America. The President's message is clear: no one is turned away and a solution must be found for any packaging challenge. Our goal is to become the first packaging company that our customers look to when faced with any given requirement or situation.
Ampak currently employs over 300 employees who form part of the Ampak team, which includes experienced sales and dedicated customer service representatives. Our plants and sales offices include two locations in Montreal, three locations in Toronto, and one location in each of Hawkesbury, Edmonton, Vancouver, Halifax, and Shanghai. We take pride in knowing each of our plants and offices strives for excellence in customer satisfaction and that every one of Ampak's employees shares information and communicates effectively, with ease, between the different branches.
From start to finish, with every first sample, first production sample and final product delivery, Ampak's employees are trained to ensure that our customers know that we always have their best interest in hand to maximize their full potential. Our collective partnership is central to everything we do.
After all, our business is packaging your business.TM

Click here to watch our "How it's made!" video.